If you are sitting there having not heard the LP (And By That I Mean…) then I am appalled. It is ten tracks of pure wonder. Don't believe me? Take a listen.
As many of you might know by now, I am a particular fan of quotes. That being said, I don't adore every quote that I hear or come across. One that I certainly don't always agree with, particularly not with music, is that "a first impression is a lasting impression". Often, it takes a long while for me to like a band or artist because I don't like what I first hear of them.
This was definitely not the case with Max Wigmore Giroux.
The sixteen year old singer-songwriter is an upcoming artist from the UK and I fell in love with his sound from the moment I began listening to his track Just What We Need.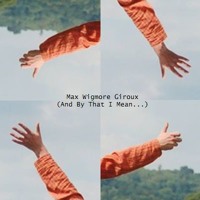 The LP begins with the track I Should Tell You Everyday, one of the album's more subtle (yet amazing) tracks with lyrics that immediately introduce you to the depth of the record. The next song is my favourite, Wilting, with it's beautiful melody and catchy lyrics.
The mood and eccentricity of the lyrics throughout the record (in particular on Just What We Need and Your Button Up Coat and Canvas Shoes) reminds me somewhat of the work of Dan Croll and Max's voice often resembles that of Morrissey in certain songs. Although many of the songs on the LP share similar conventions and sounds, each song is unique and stands out in it's own way.
The content of which resembles that of a professional's, Max's record (And By That I Mean…) is a must-listen-to album (especially for lovers of singer-songwriter/folk music).
Personal favourite song: Wilting
Listen to more: On Soundcloud
Quick Interview With Max
When and why did you get into music?
Ummm, there wasn't particularly a defining moment. I have always had an interest in music, but i just suppose its because i wanted to be cooler so I learnt the guitar…it still hasn't helped me in that aspect.
Who is your biggest musical inspiration?
I have too many influences to count, I have such a broad taste that I try to take in everything.
You write your own songs; what inspired you to start writing?
I wasn't good at maths.
Which is your favourite of your own songs?
I would have to say "Just What We Need", it is the one I wrote most recently and the lyrics mean a lot to me personally.
Where do you find inspiration?
I find inspiration in people. Me being one of those people.
Chocolate or vanilla ice cream?
Vanilla's the winner.
Morning, noon or night?
Late night/early morning.
John Green – nay or yay?
Maybe.
Have you ever been camping?
Too many times.
Which form of public transport do you prefer?
I'm literally ALWAYS on the bus.
What colour socks are you wearing?
Kind of turquoiseish.
BBC or ITV?
BBC, best documentaries.
Do you believe in ghosts?
Only on Halloween.
Whats the worst chat-up line you've heard?
"If i said you had a beautiful body, would you hold it against me?"…So I went and made a song out of it (check the Hermit [Max's band!] EP)