If you are sitting there having not heard the LP (And By That I Mean…) then I am appalled. It is ten tracks of pure wonder. Don't believe me? Take a listen.
As many of you might know by now, I am a particular fan of quotes. That being said, I don't adore every quote that I hear or come across. One that I certainly don't always agree with, particularly not with music, is that "a first impression is a lasting impression". Often, it takes a long while for me to like a band or artist because I don't like what I first hear of them.
This was definitely not the case with Max Wigmore Giroux.
The sixteen year old singer-songwriter is an upcoming artist from the UK and I fell in love with his sound from the moment I began listening to his track Just What We Need.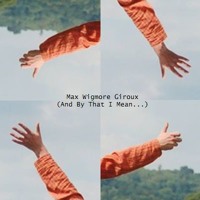 The LP begins with the track I Should Tell You Everyday, one of the album's more subtle (yet amazing) tracks with lyrics that immediately introduce you to the depth of the record. The next song is my favourite, Wilting, with it's beautiful melody and catchy lyrics.
The mood and eccentricity of the lyrics throughout the record (in particular on Just What We Need and Your Button Up Coat and Canvas Shoes) reminds me somewhat of the work of Dan Croll and Max's voice often resembles that of Morrissey in certain songs. Although many of the songs on the LP share similar conventions and sounds, each song is unique and stands out in it's own way.